When old people, patients or kids need help in an emergency, he/she can press our wireless caregiver pager(all be called Caregiver Alert Pager) to notify others. Once the button has been pressed, the receiver will be lighting and ringing.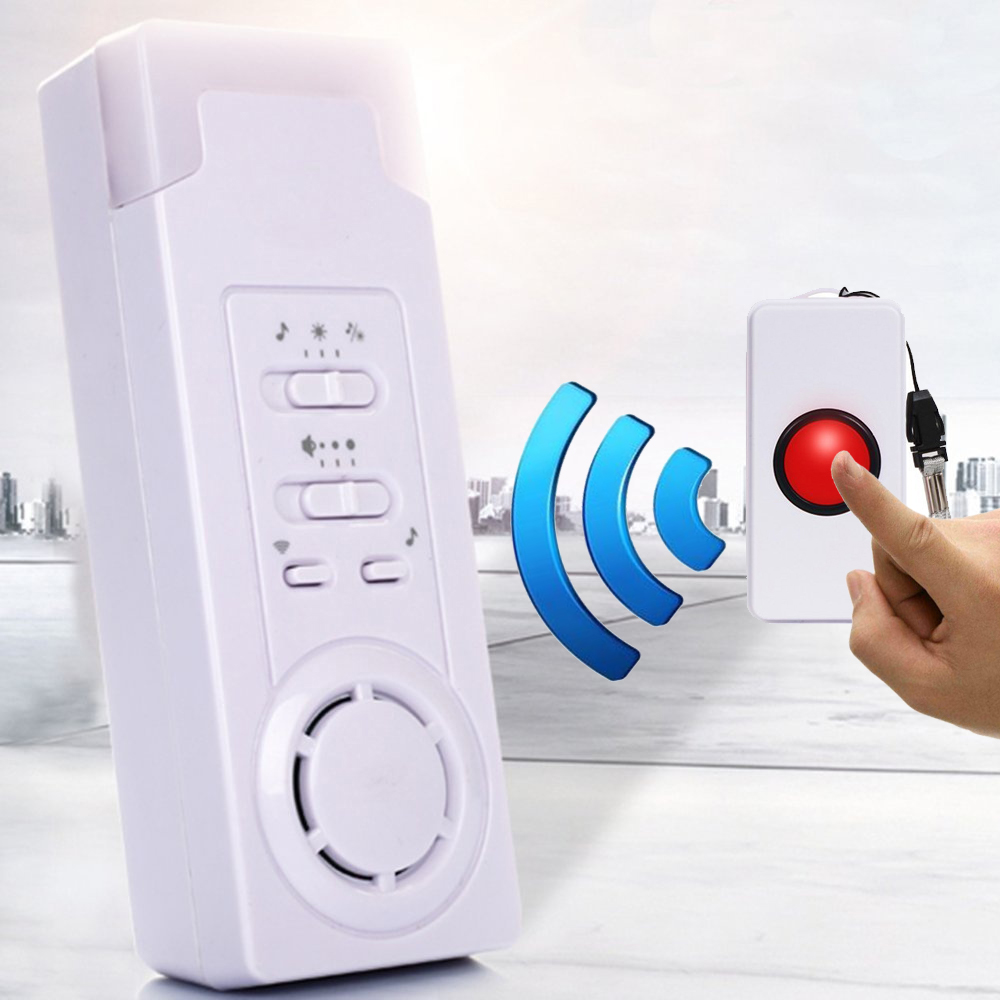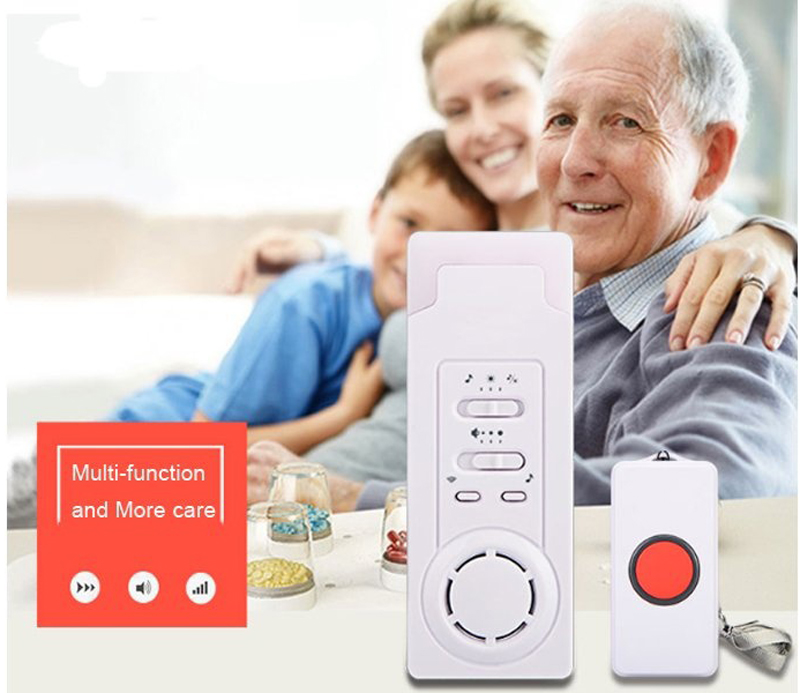 Our wireless nurse call button alert system for patient and caregiver is simple to use and provides a piece of mind:
Ideal for use as an alert aid for the elderly or disabled to quickly and easily call for help
Simply press the call button to alert the caregiver via the wireless receiver. The call button can be worn as a pendant, carried on the pocket, or placed at the bedside
The call button is water-resistant
The receiver can be wall-mounted, placed near the caregiver, or carried in the pocket.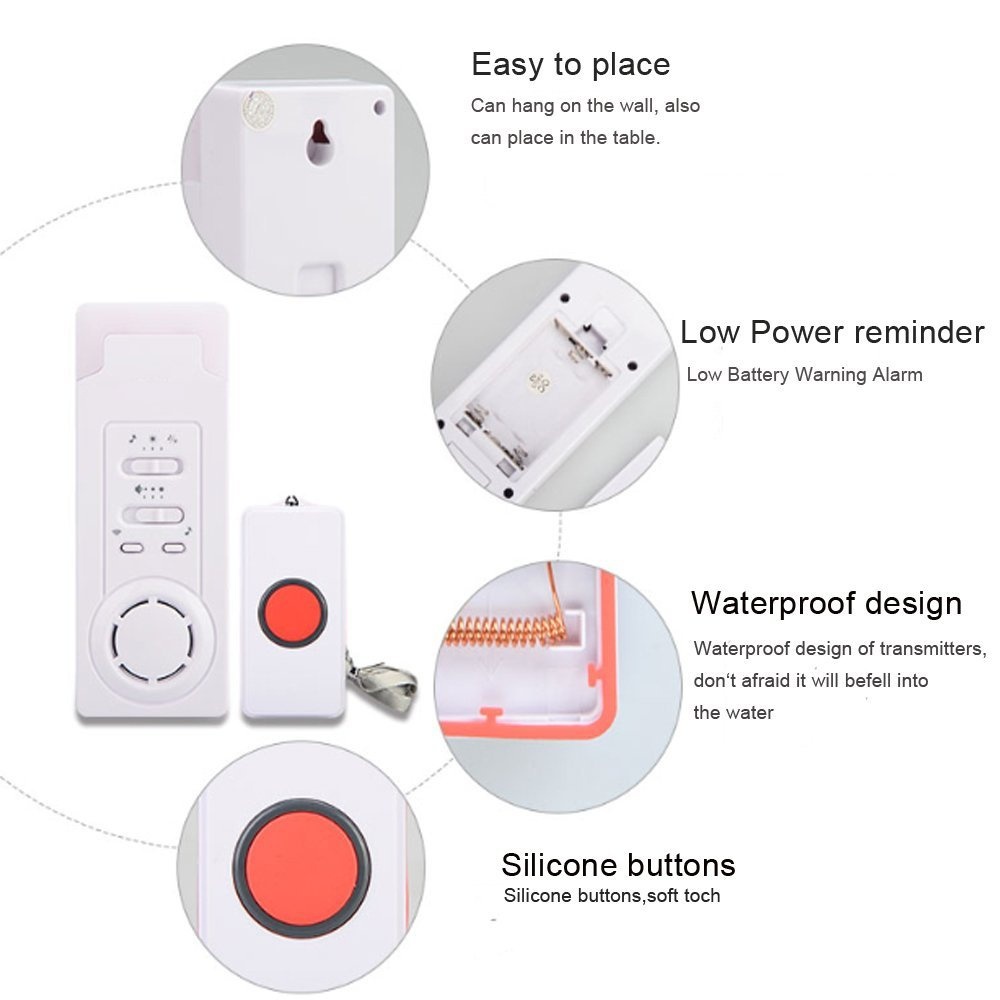 [Applications]
1. Calling device for patients and the disabled: Since the nanny of the caregiver can not always stay with patients or the disabled, what to do when they need help especially during night? They can get timely and considerate care without yelling by just pressing the button.
2. Calling devices for children: Mothers who want to exert independence from their children from a young age will not hesitate because they just need to press the button for help.
Waking up device: It is a very useful calling device for a family with parents and children sleeping in a separate room. In winter, parents can just press the button without getting dressed and getting up.
3. Care device for pregnant women or women during the month of confinement after giving birth to a child: Both pregnant women or women during the month of confinement after giving birth to a child need our considerate care. What shall we do when nanny. confinement-caring women or family members can not stay with them all the time? Only by pressing the button can meet their demand.
4. Calling device for the elderly: Some emergencies are out of our control, such as heart disease, myocardial infarction, and stroke, etc. There are many regrets even when children, nanny or caregiver may just in the next room when it happens. They can not hear it, especially during the night when they are sleeping soundly. Once they have this calling device, the elderly can receive timely and effective help in case of emergencies by pressing the alarm button.
[Feature]
Melody sounds for selection. (23 melodies and 9 emergency alerts)
Optional working mode: alarm only; light only; light and alarm
Low battery indication
levels adjustable volume control
Long-range: about 500+ feet in free space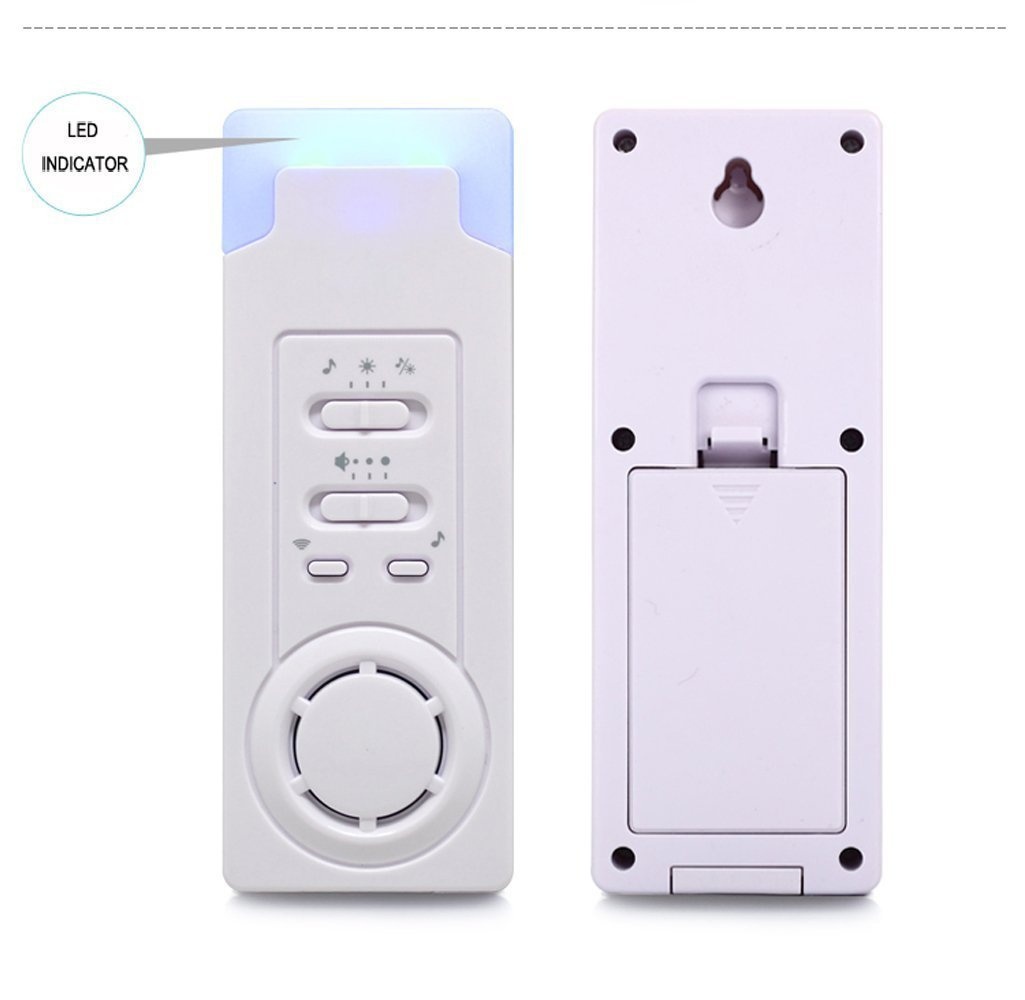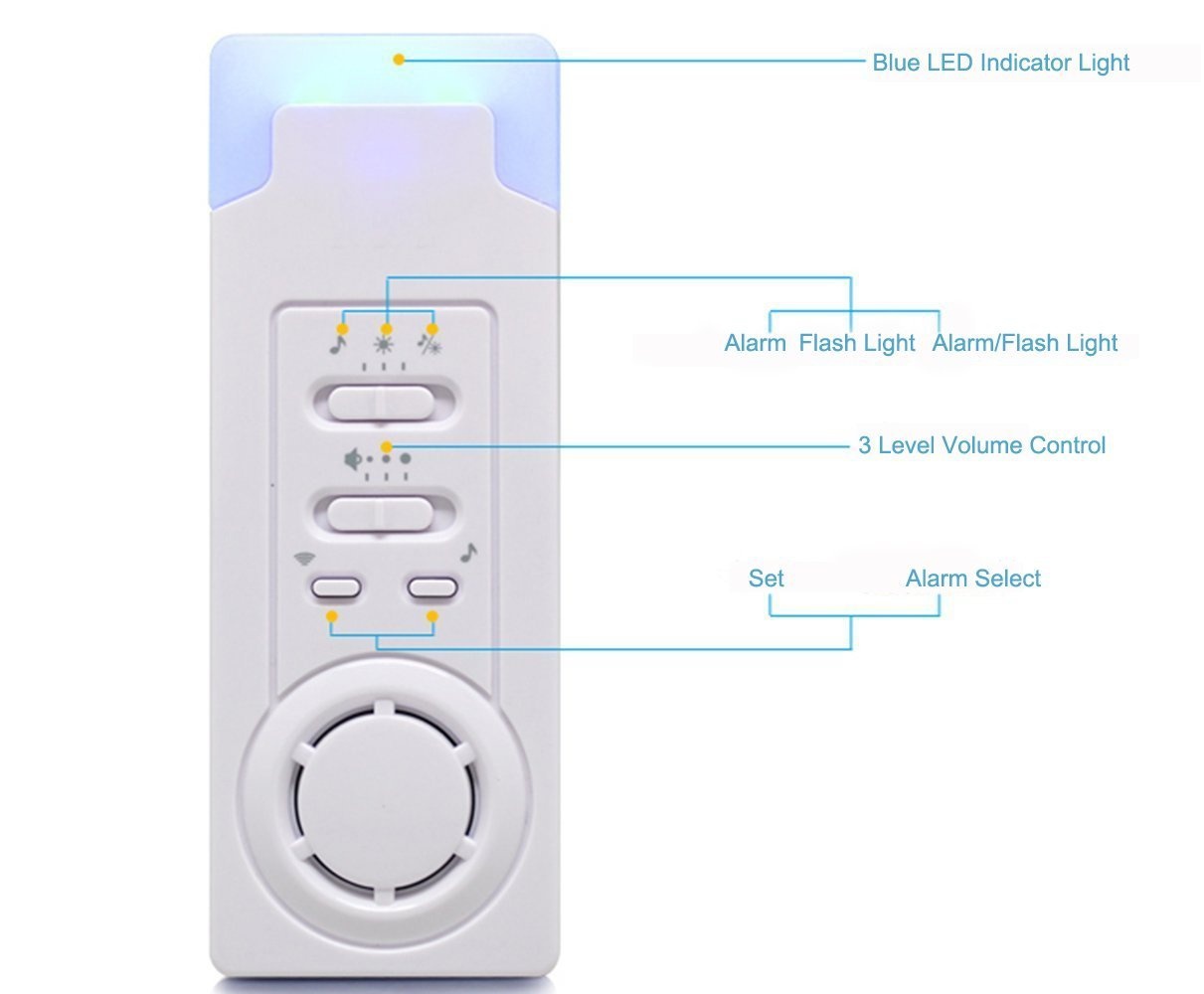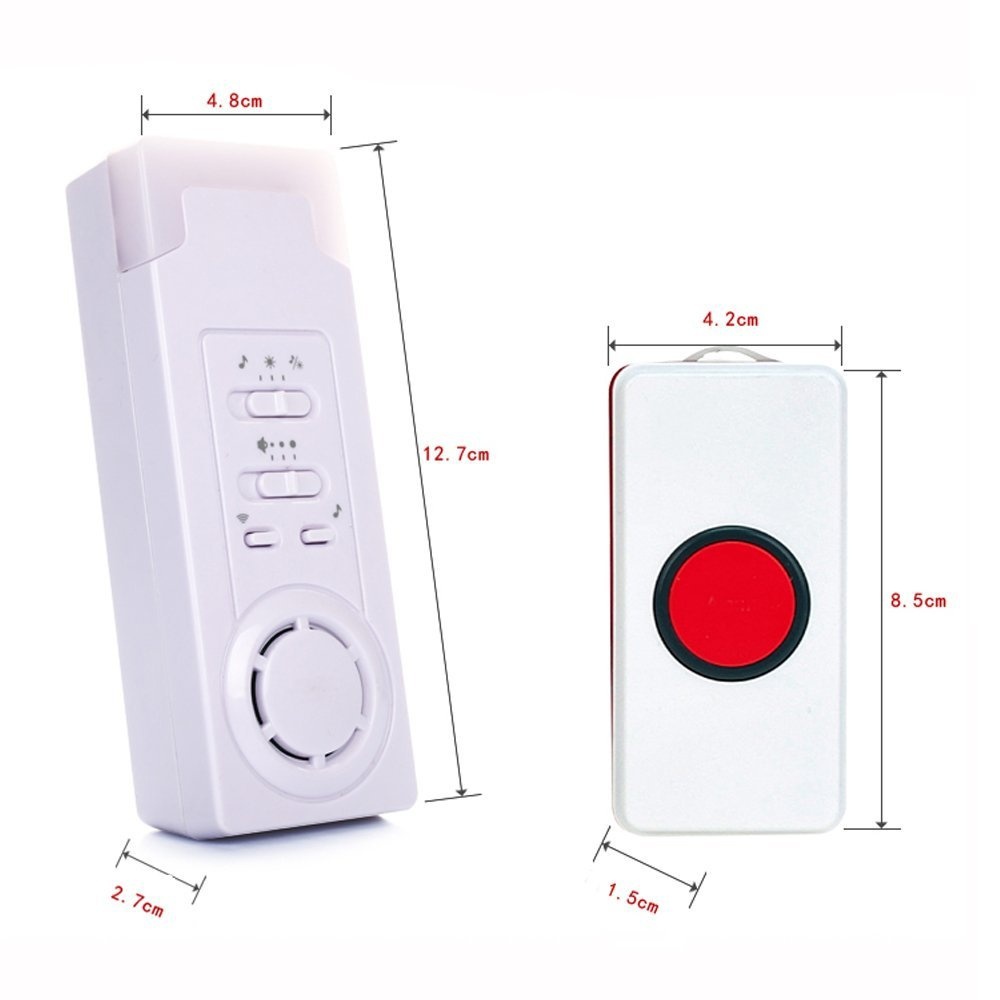 [Pairing Instructions]
1. Press receiver Signal button until the LED light turns on
2. Press red call button once to pair with a receiver (be sure to remove plastic battery protector tab by opening the call button with an included screwdriver)
3. The red light will flash to confirm successful pairing
4. The receiver will automatically exit pairing mode
5. The system is ready to use. Repeat process if call button and receiver lose connection
[FAQ]
[Q]How far is this wireless caregiver call pager able to work?
It is about 150m(500Ft) in free space. But it depends on real surrounding, normally:
- be able to work in an area below 350 square meters.
- be able to work if obstacle wall not beyond 4 sides, distance not beyond 40meters(130Ft).

[Q]Are there any interference among different calling system or between the calling system and other communication devices?
No worry, there would not any interference since we apply encryption technology in this system.

[Q]How long is the battery life in this calling system?
Normally, the call button battery, CR2032 type battery, it is able to work about 1 year.
But for the receiver battery, AAA type battery, it is about 1-3months. The receiver's low battery indication will work if the battery is running out.

[Q]How to do pair to make it work?
No worry, we will do pair first before delivery. Once received,it can work properly.
[Package-Caregiver Alert Pager, Emergency Call Button for Elderly]
1. Remote Receiver X 1: powered by 3 x AAA batteries(not included);
2. Call Button X 1: powered by 1 x CR2032 battery (included);
3. User Manual.